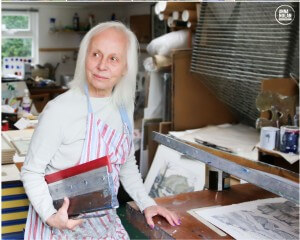 I was born in Marple, Cheshire (UK), 1937 (nee Bentley) and have a sister, Christine, and brother, John. I am married to Bill, a keen archaeologist – especially since retirement – and we have four children, Paul, Ursula, Hugh and Marion. Tragically, Marion died in 1995 and my "Angel" sculptures are dedicated to her.
Though having a recognised talent at school, I did not go to Bradford Art College until 1973-77. Here I became obsessed with the process of silk-screen printing, which I did for 18 years; I did bronze casting for 10 years, but am now painting in oils and watercolours, with occasional returns to silkscreen printing. Etching made a brief appearance in 1987 when I stayed at Lowick House in the Lake District for 3 weeks – subsequently I produced more etchings mainly of Bradford Mets fascinating historic buildings and also the bronze age markings and artefacts on Ilkley Moor. Since acquiring my own studio in 2001, my work has become larger in scale and I take a delight in mixing my own oil paints and stretching my own canvases – it all helps to get familiar with the materials and dealing with pure colour is a revelation.
From 1983-93 I worked part-time for Howard Smith, then Caroline Krzesinska, both in turn Keepers of Exhibitions at Bradford Art Galleries and Museums – this was great experience being in contact with both exhibiting artists and the organisers themselves. My main job was to type the catalogues and sort out the publicity! I was secretary to the Bradford Print Biennale for two years.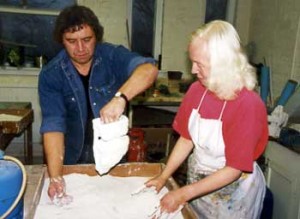 My work has been accepted at major mixed exhibitions including…
The Northern Young Contemporaries, Whitworth Art Gallery, Manchester '75
Industrial Museum, Bradford, '83
Leeds City Museum, 500 yrs Heraldry (Ilkley Coat of Arms on a sweater), '85
Leeds Art Fair '91,'92 & '94
Printmakers' Limited Editions, Bradford University '93
The Laing Exhibition, Harrogate & Dean Clough, Halifax, '91 & '97
Artists' Show '94 & '99, Leeds City Art Gallery
100 Years of Bradford, Cartwright Hall, Bradford
First Impressions, York City Art Gallery '98

Royal Academy Summer Exhibition, London '99
Showtime, The Manor House, Ilkley '01
Not Set in Stone (Ilkley Literature Festival), The Manor House, Ilkley '04
Winter Art Fair, Gallery II, Bradford University, '08
InVisible, Exhibition at The Station Gallery, Richmond, N.Yorks, '11
The Great North Art Show, Ripon Cathedral, '15
Bradford Open Exhibition, Cartwright Hall, Bradford,'15 Bradford Open Exhibition, Cartwright Hall, Bradford, '17
One-person shows
Bolton Royd, Bradford College ('99, '01)
Devonshire Fell Hotel, Burnsall, North Yorkshire (2005-06)
Lotherton Hall, Leeds (June/July 2007).
The Cavendish Pavilion, Bolton Abbey, North Yorkshire (2008/10)
The Strid Exhibition Centre, Bolton Abbey (2009)
St. Margaret's Church, Ilkley (2011/13)
Artist in residence at "A Century of Yorkshire Landscape", The Manor House Art Gallery & Museum, Ilkley '93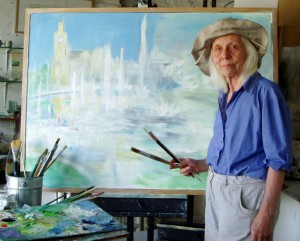 Studio Visit by The Art Fund (West Yorkshire branch), 01.
'Colour in Practice' 2-week course at The Slade, London, September 2010
'Artist in Residence' for a weekend with CTE (College of the Third Age) in Italy, September 2011
I am a member of Ilkley Arts and have the opportunity to show work in group shows at The Manor House in Ilkley.
My work is in the collections of BUPA, Empire Stores, Provident Financial, major banks and building societies, The Caring Arts at St. Luke's Hospital, and numerous private collections.